RotexTable® by Condor
RotexTable Attachment for Anterior Approach Total Hip Replacement
Motorized positioning table for lower extremities used for total hip replacement (DAA) or hip arthroscopy.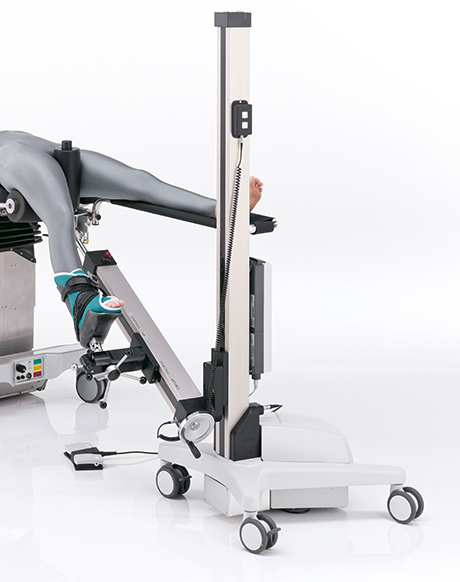 Easy usability
Motorized 34" extension and flexion.
Direct control by the surgeon via foot switch enhances control and efficiency of the procedure.
Rotation and Abduction/Adduction
Manually controlled direct by the surgeon.
Traction
Controlled manually by the surgeon or an assistant.
Extended moveability
Allows extended movements of the hip joint without additional accessories such as femoral hooks. Non-invasive "Hypomochlion" available.
Unobstructed approach
All areas to X-ray can be reached. Leg is positioned lateral to the extension bar to optimize the access for the surgeon.
Universal connectivity
Can be used with Schaerer Medical and most other surgical tables through an universal hip positioning unit via the table's side rails.
Easy assembling and storage
Tall and slim design on wheels allows easy manoeuverability and assembling. Small foot print requires minimal storage space.
Maximum patient weight capacity < 220 kg / 440 lbs
Depends also on the weight capacity of the table connected and the adapter in use.
Disposable shoe insert
For fast and hygienic patient positioning
---
You will need the Adobe Reader to view and print these documents.